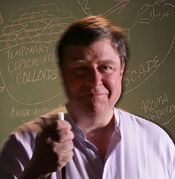 The one and only
Clark Smith
is on the hot seat this week at
Enobytes.com
. Stop by to ask him any question concerning wine making, the wine industry or just to see the discussion. For those of you who don't know him, he owns the world's largest wine consulting company -
Vinovation
- and is perhaps one of the most misunderstood and interesting people in the wine world today.
Go to the discussion
In his words:
It will be a free form, multi-topic discussion where I take questions on any subject. I'll field questions on wine technology from my usual frank perspective. I'll also discuss my recent decision to license out the Vinovation service business and devote myself to characterizing and chronicling for Appellation America all 307 U.S. and Canadian appellations. Thus we will be able to discuss what regional diversity I'm encountering and the factors that cause wines to express themselves differently in different regions.